This year the Karlberg tournament was held over a period of two weeks with play occurring on both Tuesday nights and Saturdays.  This format allowed for those not participating to both bowl and watch the action.  Several of the matches were close, some even going into extra end tie-breakers.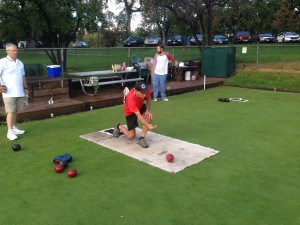 After a delay due to rain and hail Ken and Dale headed out for the singles finals.  The lawn was wet and slow but that did not
deter our bowlers.  Both bowled well but Ken was on the top of his game and edged out Dale for the championship.
The pairs was won by Dale and Stephan M after several well-played matches.
After the singles win the group of players and spectators enjoyed a hearty meal cooked by Dave M. and added to by the pot luck dishes everyone brought.
Awards were presented by Ralph Karlberg after whom the tournament is named and Steve Talkington after which a cake was devoured in honor of Ralph's upcoming 95th birthday.  Happy Birthday Ralph!  In addition a bit of champagne was had in honor of Steve who will be leaving Colorado for a new chapter of his life in Bellingham, Washington.  Thanks to Steve for all of the organization and especially his work to improve the lawn over the past few years.  We will miss you and expect frequent visits each year.
JOIN US FOR A GREAT SEASON OF LAWN BOWLING
RENT THE GREEN FOR YOUR SPECIAL OCCASION
The club provides instructions, use of all equipment, set up and breakdown of the green plus tables and chairs for your event. Please visit the
Group Outings
tab above for more information or email us at
Contact us
on this website. We look forward to hosting your event.